Embry-Riddle Aeronautical University's prestigious history began nearly 100 years ago, when John Paul Riddle and T. Higbee Embry harnessed a lofty vision that was rooted in the fascination of flight and the possibilities that aviation presented for the future.
This innovative, leading-edge thinking has guided us ever since, taking Embry-Riddle from a fledgling flight school to the world-renowned leader in all things aviation and aerospace.
Today, our professors are industry experts conducting ground-breaking research and sharing their experience with our students — a group of focused high-achievers working passionately to build futures in the industries they love.
Our 137,000-plus alumni have set a standard for leadership and excellence from the flight deck to the C-suite, while our talented and growing workforce is empowered every day to reach their highest potential as they cultivate careers they can be proud of.
After more than nine decades of growth and discovery, Embry-Riddle is one renowned global university with three distinctly unique campuses, offering unparalleled education for our students and unequaled opportunities for our faculty and staff.
See Embry-Riddle through the Decades
Leadership and Direction
Embry-Riddle Aeronautical University is led by President Dr. P. Barry Butler, who reports to the university's Board of Trustees. As the recognized leader in aviation and aerospace higher education, Embry-Riddle continues expanding applied research and innovation in areas ranging from autonomous systems to commercial space operations.
Daily contributions from our skilled faculty and dedicated staff create an atmosphere of success and empowerment, key reasons why we have been named as a Great College to Work For for the past 10 years.
"I am particularly proud that this recognition comes during a period when enrollment is at an all-time high, significant construction has been under way on both campuses and we are expanding our research park," Dr. Butler said of the 2019 honor, adding: "Growth brings new challenges. However, our focus on student success is constant. What we do for students is a big part of what makes Embry-Riddle a rewarding place to work and a better place to learn."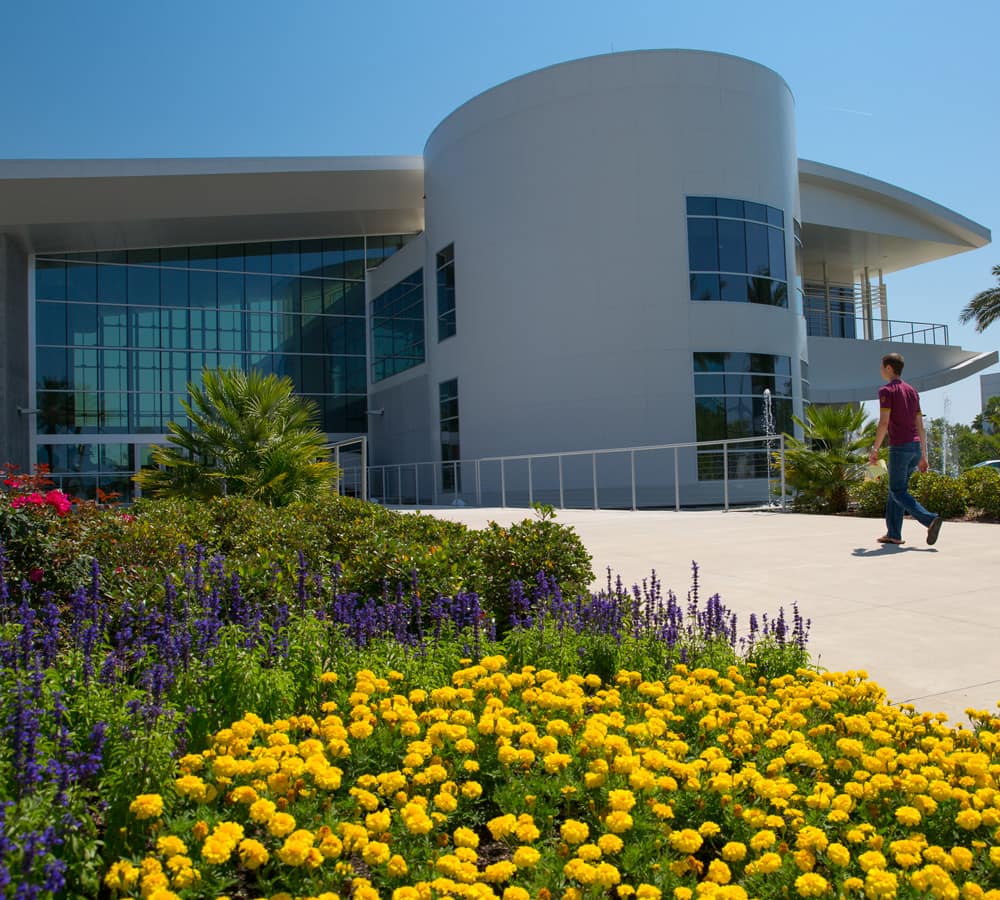 Strategic Initiatives
In March 2018, Embry-Riddle unveiled a university-wide strategic plan (2018-23) designed to keep the institution true to its mission, advance its vision, and honor its values. Every employee had an opportunity to make suggestions and many were incorporated into the plan. Strategic Implementation Teams identified best practices, key goals, success metrics and next steps in five areas.
Enrollment Management

Student Experience & Success

Global Strategy

Research & Innovation

Philanthropy & Alumni Engagement
Facts and Figures
100+


Degrees Offered

---

7


Alumni who are current or former astronauts

---

Sports programs at the two residential campuses:


20

Daytona Beach

11

Prescott
(Daytona Beach Athletics; Prescott Athletics; 2020)
Milestone Years
1926


Began training flight students

1965


ERAU's Florida Campus moved from Miami to Daytona Beach

1970


Worldwide Campus opened

1978


ERAU's Campus opened in Prescott, Arizona